Our Construction Department has more than 100 years of combined construction management (planning, estimating, scope of work development, and project management) experience. Much of AHIP's expertise lies in serving the unique needs of income-limited and elderly clientele while navigating the complex landscape of public and private grant funding and local, state, and federal compliance. AHIP is successfully guided by a 13-member board of directors that meets six times a year.
---
Jennifer Jacobs
Executive Director
434.817.2447 x36
Email (jjacobs@ahipva.org)
Jennifer joined AHIP in April 2006 as Director of Resource Development, and in 2009, she became Executive Director. Jennifer has more than 20 years of experience in fundraising, communications, and membership, having worked for a variety of non-profit arts, social services, housing rights, and public interest organizations in Washington, D.C., New York City, and the San Francisco Bay Area. Prior to joining AHIP, Jennifer served as Development Director for the National Housing Law Project, a national housing rights organization based in San Francisco. Jennifer grew up in Maryland and earned a B.A. in Communication from James Madison University. She lives in Albemarle County.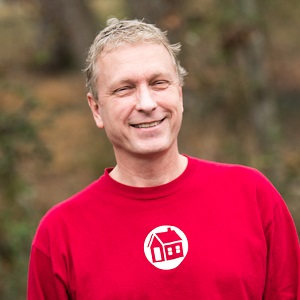 Craig Kaiser
Chief Financial Officer
434.817.2447 x30
Email (ckaiser@ahipva.org)
Craig was selected for the role of Finance Director beginning in July 2014 and now serves as Chief Financial Officer. He provides management control and administration of all fiscal and HR operations, as well as ensuring that the organization is well equipped with evolving technologies to help carry out its mission. Craig brings 15 years of experience in accounting and finance positions with contractor and service organizations to his job at AHIP. He earned a B.A. in Accounting from National College of Business and Technology in Roanoke. Craig grew up in Charlottesville, and now lives in Albemarle County. When not working, he enjoys gardening, creating dinosaur dioramas, and visiting the Carolina beaches.
Jane Andrews
Program Manager,
Construction
434.817.2447 x22
Email (jane@ahipva.org)
Jane joined AHIP in 1985. As Associate Director of Construction Programs, she is responsible for administering federal, state, and local funds with the purpose of improving the living conditions of low- to moderate-income homeowners. Jane works directly with homeowners to determine eligibility for resources and serves as an advocate for families during the screening process and through construction. Jane manages a million-dollar budget and is responsible for reporting to multiple funding sources on compliance as well as to AHIP's Board of Directors and county and city housing agencies on production. She supervises a staff of 14 employees involved in construction activities and manages all customer service issues. Before joining AHIP, Jane worked for Riverdale Retirement Homes, a local nursing home company that managed adult care homes throughout the state of Virginia. Before that, she managed the first-year operation of a 150-unit affordable apartment complex. Jane graduated from Longwood University and holds a Bachelor of Science in Social Work. She currently serves on the Housing Directors Council for the Thomas Jefferson District Planning Commission. Jane shares her office responsibilities with her two dogs, Tipper and Wren, who provide K9 therapy to AHIP staff as needed, and she enjoys riding her horse to the call of the horn and hounds of the Oak Ridge Hunt.
Finance & Office Administration
---
Erica Dempsey
Assistant to the CFO
434.817.2447 x24
Email (edempsey@ahipva.org)
When she came on staff at AHIP in April 2016, Erica turned her interest in the local real estate market and housing issues into a full-time job. A Charlottesville resident since 1980, Erica brings 12 years of accounting expertise to the Finance Department at AHIP. She earned a B.S. in Sociology with a minor in Communications from Virginia Tech. When she's not working, Erica enjoys a hobby in home design and spending time with her family, especially game night with her daughters.
Karen Chambers
Administrative Assistant
434.817.2447 x21
Email (kchambers@ahipva.org)
In June 2018, AHIP was pleased to welcome Karen to the team in the role of Administrative Assistant. She has more than 20 years of administrative experience with her most recent career spent in service in the law enforcement field, from working with the Department of Corrections in Fluvanna and Fluvanna County Public Schools to the post of deputy with the Fluvanna County Sheriff's Office. Prior to joining AHIP, Karen served as a resident advisor at Blue Ridge Juvenile Detention Center, helping provide a safe environment for juveniles and adults.
Karen grew up in the Fork Union area of Fluvanna County. She and her husband have been married for 25 years, raised three children together, and are now enjoying two grandchildren and two dogs. Karen's connection to AHIP dates back to 2016 when her husband was injured in a motorcycle accident and they needed help from AHIP to make their home handicap accessible.
Katie Davenport
Director of Marketing and Communications
434.817.2447 x41
Email (kdavenport@ahipva.org)
Until coming on board at AHIP in 2014, Katie focused on communications and media relations for several professional trade associations—ranging from a 17,000-member international association for facility managers to the 1,000-member local Charlottesville Area Association of REALTORS. When the partnership formed for Seniors Safe at Home, she quickly became enamored with AHIP's mission in the community. Her key role is to support AHIP's messaging through the Web site, social media, direct mail campaigns, community events, and press coverage. It has been an exciting time for her at AHIP learning a new skillset: donor relations. Katie holds a B.A. in Communications from the University of Houston, majoring in journalism and minoring in art history. When not at AHIP, she and her family are out discovering new and wonderful activities that Central Virginia has to offer.
Ashley Patel
Development Manager
434.817.2447 x31
Email (apatel@ahipva.org)
Ashley learned about AHIP in September 2013 when she volunteered through her membership in the Charlottesville Area Association of Realtors. She quickly adopted the mission of safe homes for seniors and families as a personal passion, and, when the new position of Events Coordinator was created, she was the perfect fit for the role. Ashley is responsible for all the elements related to AHIP's community events, from our annual flagship House Party and internal committee meetings to local business outreach and volunteer projects. She brings a 10-year background in the banking industry, from financial services to mortgage consulting. She also currently serves as treasurer of her neighborhood association. Ashley holds a Bachelor of Business Administration Marketing/Management with a minor in communications from East Tennessee State University. Ashley lives with her family and dog Daisy Mae in Crozet.
Cory Demchak
Director of Programs
434.817.2447 x32
Email (cory@ahipva.org)
Laurie Jensen
Program Manager, Outreach
434.817.2447 x29
Email (ljensen@ahipva.org)
Laurie joined the AHIP team in February 2015 as Project & Administrative Assistant, but in July 2017 assumed her current role of Program Manager serving as a point of contact for clients, overseeing the client intake process, and being our staff contact for the Energy Retrofit Initiative and other programs. A licensed teacher for more than 25 years, Laurie has worked with students in both public and private schools. From 2010 to 2014, Laurie and her husband, also with a long career in education, owned and operated a distance education company, designed as an outreach for Virginia students needing online classes and tutoring in a home-based setting. An experienced writing and editing professional, Laurie has provided freelance contract services for businesses and local authors for the past 15 years and additionally was a contributing writer for the special sections of the Daily Progress. Laurie is a native Central Virginian with strong family ties to the area. She holds a Bachelor of Science in Early Childhood Education from James Madison University. She grew up in Fluvanna County and lives there today with her family. When she's not working, Laurie enjoys gardening, singing, cooking, hanging out in antiques shops, and exploring the beauty and back roads of Virginia.
Len Wishart
Rehab Specialist
434.817.2447 x35
Email (lwishart@ahipva.org)
As Rehabilitation Specialist, Len is responsible for rehab project management from start to finish beginning with initial client home inspections, construction estimates, and determining the scope of work for city and county rehabs and emergency repairs. Len assists clients in navigating funding source options; arranging specialty inspections of their properties; and complying with city, county, state, and federal regulations for assistance in construction rehabilitation. In addition to completing HUD Section 8 inspections, evaluating city property maintenance inspections, flood plain certifications, and historical review application requirements, Len also is responsible for obtaining all relevant local government and health department construction permits and soliciting multiple bids from subcontractors for each job requiring their use. Len created and currently directs the AHIP Respiratory Protection Program and Lead Worker Medical Surveillance Plan. Before coming to AHIP in August of 2003, Len owned and operated a construction and rehab company that performed custom and historical renovations throughout the area as well as rehab work for the Fluvanna County Housing Foundation. Len has conferred bachelor's and master's degrees from the University of Virginia and holds a Contractor's License, Lead Abatement Supervisor License, and Lead Project Designer License with the Virginia DPOR. He also has completed EarthCraft House Builder Training certification and coursework with the College of William and Mary Center for Executive Development in Construction Management and is an EPA certified RRP renovator.
Wayne Snow
Crew Leader
Dustin Wood
Crew Leader
Mike Vance
Crew Leader
Herbert Younker
Crew Leader
Clinton Musselman
Electrician
Steve Faircloth
Carpenter
James Cook
Carpenter
Mark Long
Carpenter
Michael Beahm
Carpenter
Jess Stephon
Carpenter's Helper
Seth Wood
Carpenter's Helper
Lukas Fisher
Carpenter's Helper
Mario Brown
Carpenter's Helper
Pete Pompper
Helper
Deborah van Eersel, President
UVA Foundation
James Brown
Sheriff, City of Charlottesville
Grey McLean
Adiuvans Relief Fund
Steve Murphy
McGuireWoods
Mac Weems
Fulton Financial Corp.
Waki Wynn, Vice President
Peabody School
Warren Buford
St. Anne's-Belfield School
Fred Missel
UVA Foundation
Liz Russell
Thomas Jefferson Foundation
Carmelita Wood
ACAC-Albemarle Square
Vicki Jones, Treasurer
Jones & Company CPA, LLC
Rachel Foster
Long & Foster Companies
Suzanne Morse Moomaw, PhD
UVA School of Architecture
Ryan Vaughan
Quantitative Investment Management