Our Construction Department has more than 100 years of combined construction management (planning, estimating, scope of work development, and project management) experience. Much of AHIP's expertise lies in serving the unique needs of income-limited and elderly clientele while navigating the complex landscape of public and private grant funding and local, state, and federal compliance. AHIP is successfully guided by a 13-member board of directors that meets six times a year.
---
Jennifer Jacobs
Executive Director
434.817.2447 x36
Email (jjacobs@ahipva.org)
Jennifer joined AHIP in April 2006 as Director of Resource Development, and in 2009, she became Executive Director. Jennifer has more than 20 years of experience in fundraising, communications, and membership, having worked for a variety of non-profit arts, social services, housing rights, and public interest organizations in Washington, D.C., New York City, and the San Francisco Bay Area. Prior to joining AHIP, Jennifer served as Development Director for the National Housing Law Project, a national housing rights organization based in San Francisco. Jennifer grew up in Maryland and earned a B.A. in Communication from James Madison University. She lives in Albemarle County.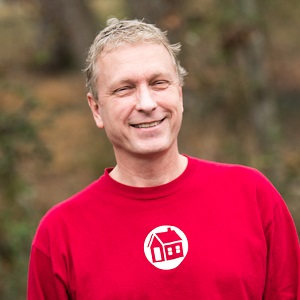 Craig Kaiser
Chief Financial Officer
434.817.2447 x30
Email (ckaiser@ahipva.org)
Craig was selected for the role of Finance Director beginning in July 2014 and now serves as Chief Financial Officer. He provides management control and administration of all fiscal and HR operations, as well as ensuring that the organization is well equipped with evolving technologies to help carry out its mission. Craig brings 15 years of experience in accounting and finance positions with contractor and service organizations to his job at AHIP. He earned a B.A. in Accounting from National College of Business and Technology in Roanoke. Craig grew up in Charlottesville, and now lives in Albemarle County. When not working, he enjoys gardening, creating dinosaur dioramas, and visiting the Carolina beaches.
Erica Dempsey
Assistant to the CFO
434.817.2447 x24
Email (edempsey@ahipva.org)
When she came on staff at AHIP in April 2016, Erica turned her interest in the local real estate market and housing issues into a full-time job. A Charlottesville resident since 1980, Erica brings 12 years of accounting expertise to the Finance Department at AHIP. She earned a B.S. in Sociology with a minor in Communications from Virginia Tech. When she's not working, Erica enjoys a hobby in home design and spending time with her family, especially game night with her daughters.
Development & Communications
---
Katie Davenport
Director of Marketing and Communications
434.817.2447 x41
Email (kdavenport@ahipva.org)
Until coming on board at AHIP in 2014, Katie focused on communications and media relations for several professional trade associations—ranging from a 17,000-member international association for facility managers to the 1,000-member local Charlottesville Area Association of REALTORS. When the partnership formed for Seniors Safe at Home, she quickly became enamored with AHIP's mission in the community. Her key role is to support AHIP's messaging through the Web site, social media, direct mail campaigns, community events, and press coverage. It has been an exciting time for her at AHIP learning a new skillset: donor relations. Katie holds a B.A. in Communications from the University of Houston, majoring in journalism and minoring in art history. When not at AHIP, she and her family are out discovering new and wonderful activities that Central Virginia has to offer.
Ashley Patel
Director of Development
434.817.2447 x31
Email (apatel@ahipva.org)
Ashley learned about AHIP in September 2013 when she volunteered through her membership in the Charlottesville Area Association of Realtors. She quickly adopted the mission of safe homes for seniors and families as a personal passion, and, when the new position of Events Coordinator was created, she was the perfect fit for the role. Ashley is responsible for all the elements related to AHIP's community events, from our annual flagship House Party and internal committee meetings to local business outreach and volunteer projects. She brings a 10-year background in the banking industry, from financial services to mortgage consulting. She also currently serves as treasurer of her neighborhood association. Ashley holds a Bachelor of Business Administration Marketing/Management with a minor in communications from East Tennessee State University. Ashley lives with her family and dog Daisy Mae in Crozet.
Wayne Snow
Crew Leader
David Bauer
Electrician
Steve Faircloth
Carpenter
Travis Brown
Carpenter
Jess Stephon
Carpenter's Helper
Seth Wood
Carpenter's Helper
Michael Owens
Laborer
Deborah van Eersel, President
UVA Foundation
James Brown
Sheriff, City of Charlottesville
Grey McLean
Adiuvans Relief Fund
Steve Murphy
McGuireWoods
Carmelita Wood
ACAC-Albemarle Square
Waki Wynn, Vice President
Peabody School
Rachel Foster
Long & Foster Companies
Fred Missel
UVA Foundation
Liz Russell
Thomas Jefferson Foundation
Vicki Jones, Treasurer
Jones & Company CPA, LLC
Emily Martin
University of Virginia
Suzanne Morse Moomaw, PhD
UVA School of Architecture
Kristin Szakos
Writer, Editor, Activist