Our Construction Department has more than 100 years of combined construction management (planning, estimating, scope of work development, and project management) experience. Much of AHIP's expertise lies in serving the unique needs of income-limited and elderly clientele while navigating the complex landscape of public and private grant funding and local, state, and federal compliance. AHIP is successfully guided by a 15-member board of directors that meets six times a year.
---
Cory Demchak
Interim Executive Director
434.817.2447 x26
Email (cory@ahipva.org)
Cory joined AHIP in September of 2018 as the Director of Programs. In this role, Cory is responsible for program oversight and coordination as well as program development and reporting. Before joining AHIP, Cory worked for the City of Charlottesville's Office of Economic Development in charge of various workforce development initiatives including management of the Downtown Job Center. Prior to that he was a probation and parole officer for nearly a decade serving Charlottesville and central Virginia.
A resident of Albemarle County, Cory has lived in the area since 2005 when he moved to Virginia from western Pennsylvania. He holds a bachelor's degree in criminology from Indiana University in his home state of Pennsylvania. Outside of work, Cory enjoys spending time with his wife and their three children. He also enjoys exploring the outdoors, playing rugby, and bird watching.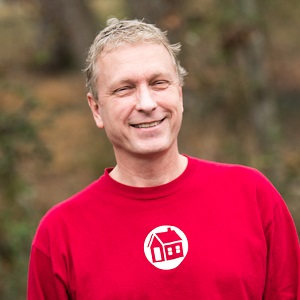 Craig Kaiser
Chief Financial Officer
434.817.2447 x30
Email (ckaiser@ahipva.org)
Craig was selected for the role of Finance Director beginning in July 2014 and now serves as Chief Financial Officer. He provides management control and administration of all fiscal and HR operations, as well as ensuring that the organization is well equipped with evolving technologies to help carry out its mission. Craig brings 15 years of experience in accounting and finance positions with contractor and service organizations to his job at AHIP. He earned a B.A. in Accounting from National College of Business and Technology in Roanoke. Craig grew up in Charlottesville, and now lives in Albemarle County. When not working, he enjoys gardening, creating dinosaur dioramas, and visiting the Carolina beaches.
Erica Dempsey
Assistant to the CFO
434.817.2447 x24
Email (edempsey@ahipva.org)
When she came on staff at AHIP in April 2016, Erica turned her interest in the local real estate market and housing issues into a full-time job. A Charlottesville resident since 1980, Erica brings 12 years of accounting expertise to the Finance Department at AHIP. She earned a B.S. in Sociology with a minor in Communications from Virginia Tech. When she's not working, Erica enjoys a hobby in home design and spending time with her family, especially game night with her daughters.
Kyle joined AHIP in October of 2022 as the Development Manager. Working with the Director of Development, he is responsible for the donation intake process, private grant applications, digital marketing and communications, and general fundraising support. Kyle draws on a background from various fields of work, both private and nonprofit. Kyle has a bachelor's and master's degree in writing, rhetoric, and technical communication from James Madison University and enjoys spending time with friends playing board games.
Wayne Snow
Crew Leader
David Bauer
Electrician
Travis Brown
Carpenter
Waki Wynn, President
Peabody School and RE/MAX
Margaret Anderson
UVA Alumni Foundation
Steve Murphy
McGuireWoods
Carmelita Wood
ACAC-Albemarle Square
Fred Missel, Vice President
UVA Foundation
James Brown
Sheriff, City of Charlottesville
Emily Douglas
University of Virginia
Liz Russell
Thomas Jefferson Foundation
Kristin Szakos, Vice President
Writer, Editor, Activist
Rebecca Ivins
Hourigan Construction
Suzanne Morse Moomaw, PhD
UVA School of Architecture
Charley Lewis
York Property